Please note that these products are experimental and not official forecasts. For official forecasts in the U.S.,
please refer to the National Weather Service and National Hurricane Center.
Model data last updated Fri Aug 3 00:15:01 UTC 2012.
Model

Initial Time

Field

Hour

Get Image
---
Note:
The GFS, GFDL, HWRF, and NGP data are provided via NCEP's anonymous ftp servers.
The CMC data are provided via CMC's anonymous ftp server.
The ECMWF data are provided via ECMWF's anonymous ftp server.
The NOAA HRD HFIP HWRF Data are provided by NOAA/HRD.
---
Bob Hart
(rhart@fsu.edu)
Department of Earth, Ocean, and Atmospheric Science
Florida State University
---
Graphical Tropical Weather Outlook:
---
Latest Tropical Weather Outlook:
---
Latest Tropical Weather Discussion:
---
Western Atlantic Infrared Satellite Image:
-
Back to top
---
Tropical Atlantic Wide Infrared Satellite Image:
---
Other Infrared Satellite Images:
North Atlantic:

Western Atlantic:

Central Atlantic:

Gulf of Mexico:

Caribbean:

US East Coast:

Northwest Atlantic:

---
Tropical Atlantic Wide Visible Satellite Image:
-
Back to top
---
Other Visible Satellite Images:
North Atlantic:

Western Atlantic:

Central Atlantic:

Gulf of Mexico:

Caribbean:

US East Coast:

Northwest Atlantic:

---
Western Atlantic Water Vapor Satellite Image:
-
Back to top
---
Tropical Atlantic Wide Water Vapor Satellite Image:
---
Other Water Vapor Satellite Images:
North Atlantic:

Western Atlantic:

Central Atlantic:

Gulf of Mexico:

Caribbean:

US East Coast:

Northwest Atlantic:

---
Eastern Atlantic Infrared Satellite Image:
-
Back to top
---
Eastern Atlantic Infrared Satellite Image:
---
Eastern Atlantic Visible Satellite Image:
---
Eastern Atlantic Water Vapor Satellite Image:
---
Radar Imagery:
-
Back to top
Southeast United States:
Lower Mississippi Valley:
Southern Plains:
Puerto Rico:
Cuban Radar Mosiac:
---
Bahamas Radar Links:
Bermuda Radar Links:
Radar Loop From Bermuda Weather Service
Static Radar Images From Bermuda
Bermuda Radar & AWOS
Jamaica/Hispaniola Radar Links:
Jamaican Radar Imagery
Cuba & Jamaica Radar Mosiac
Eastern Cuba/Haiti Radar Imagery
Cuba Radar Sites
Lesser Antilles & Barbados Radar Links:
Antilles Radar Imagery
Barbados Radar Imagery
St. Maarten Radar Loop
ABC Islands Radar Imagery
Mexico & Central America Radar Links:
Mexican Radar Imagery
Belize Radar Imagery
Panama Radar Imagery
---
Saharan Air Layer (SAL) Analysis:
---
Current Tropical Atlantic Surface Weather Analysis:
-
Back to top
Current Southwest North Atlantic Surface Analysis: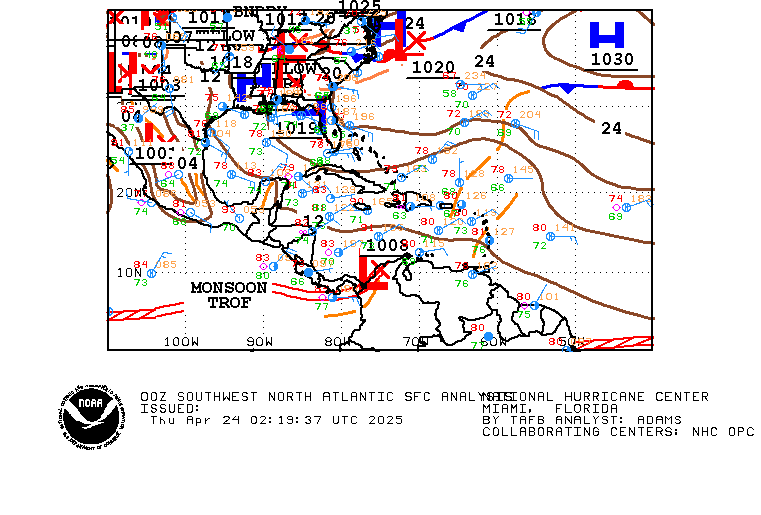 Current Caribbean Sea Surface Analysis: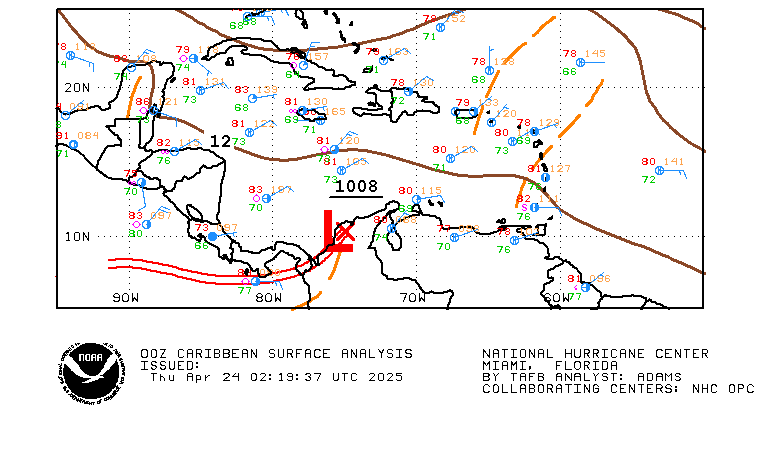 Current Gulf of Mexico Surface Analysis: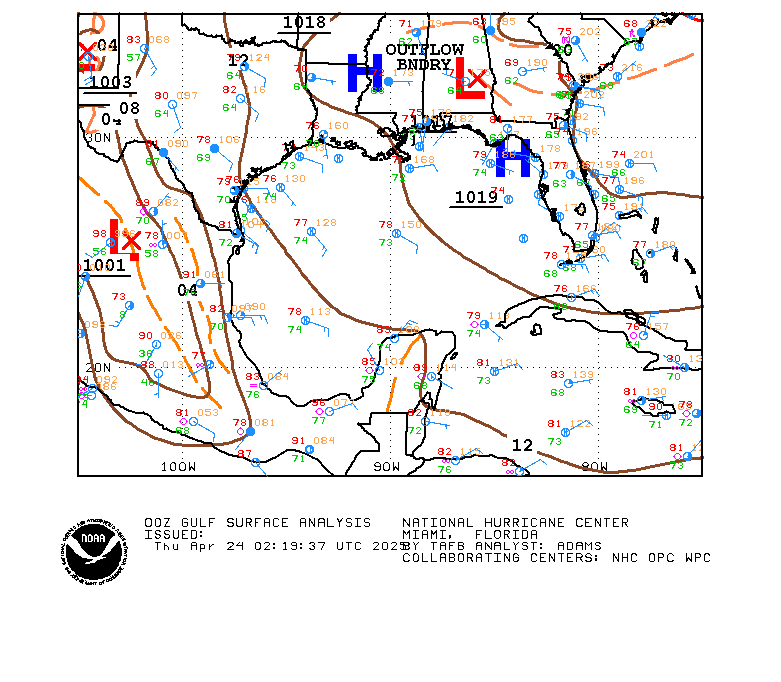 ---
Current Atlantic Sea State Analysis: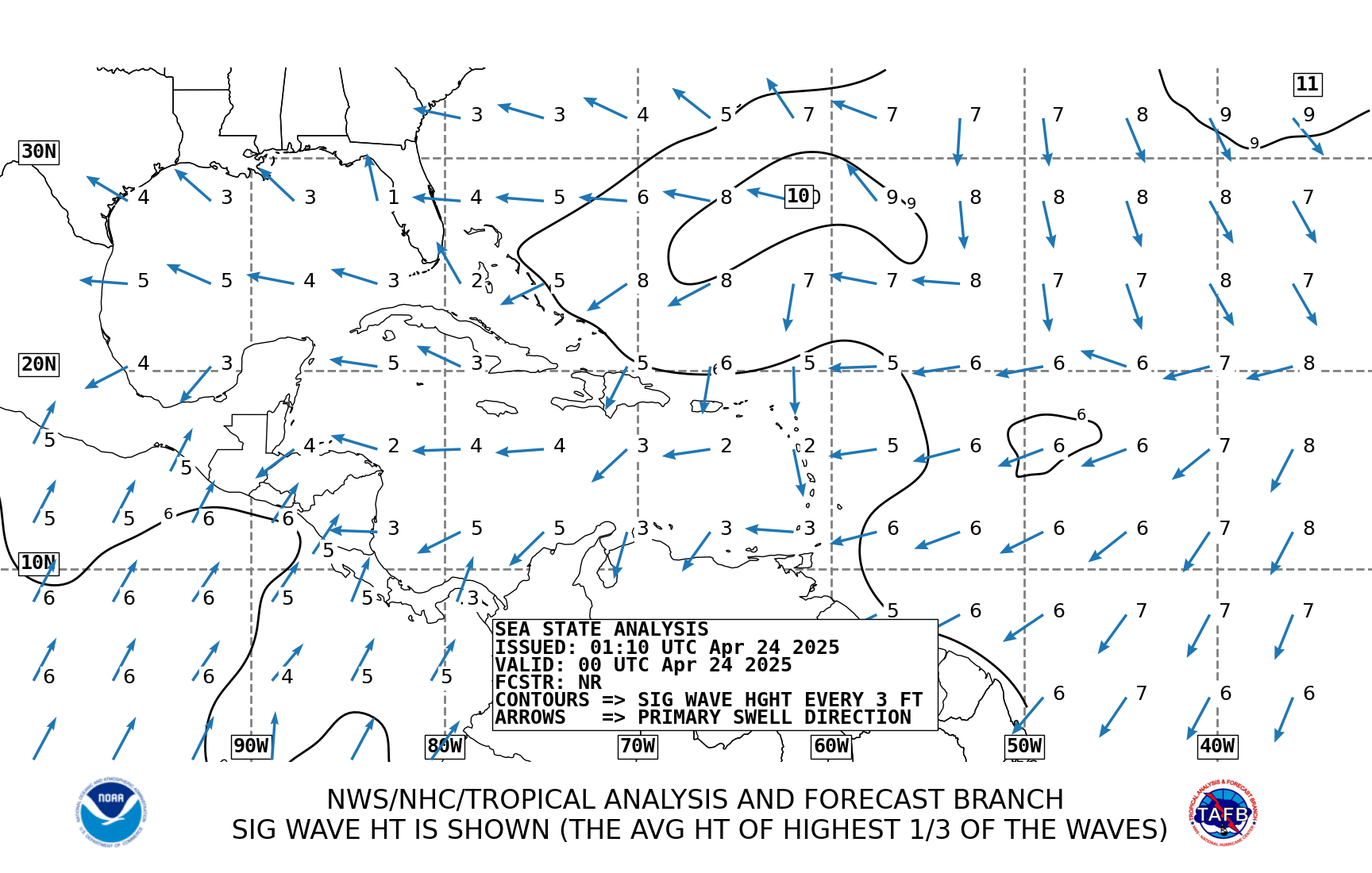 ---
24 Hour NHC Surface Forecast: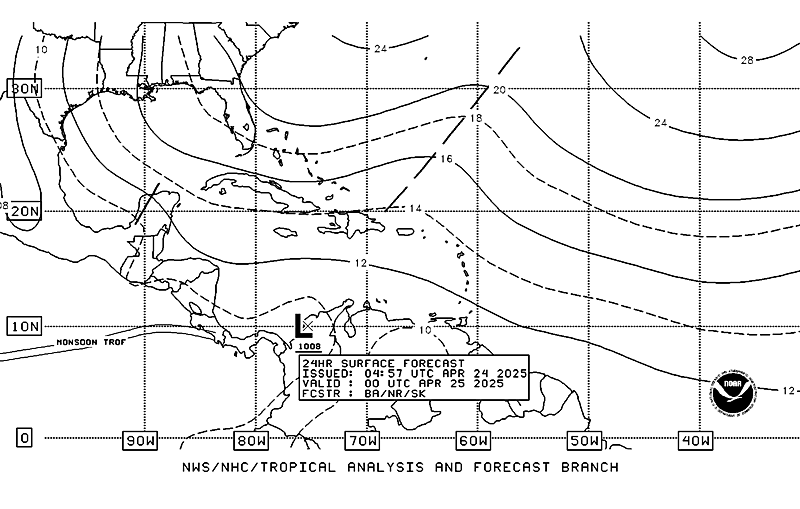 48 Hour NHC Surface Forecast: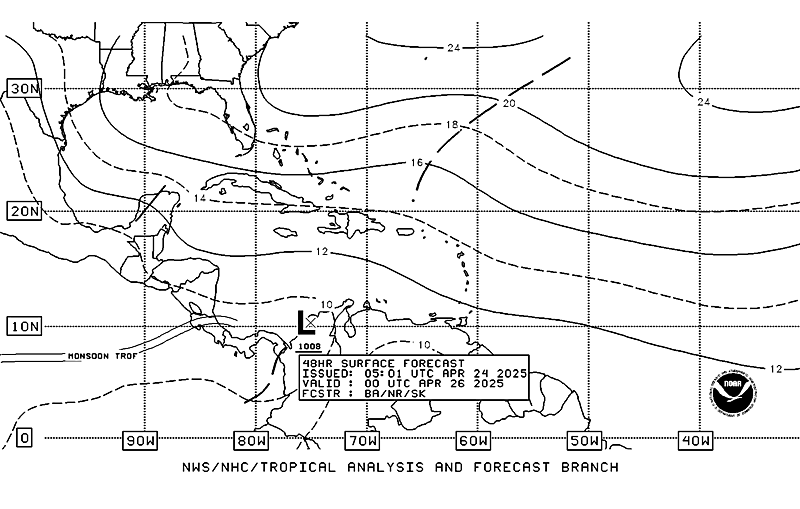 72 Hour NHC Surface Forecast: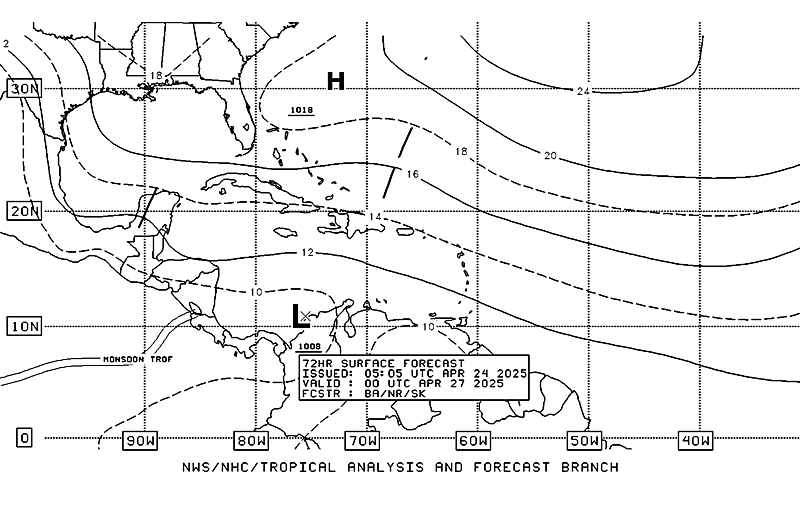 ---
24 Hour Sea Level Pressure Forecast:
24 Hour 500 Millbar Height Forecast:
24 Hour 300 Millbar Pressure Forecast:
24 Hour 300-850 Shear Forecast:
-
Back to top
---
36 Hour Sea Level Pressure Forecast:
36 Hour 500 Millbar Height Forecast:
36 Hour 300 Millbar Pressure Forecast:
36 Hour 300-850 Shear Forecast:
---
48 Hour Sea Level Pressure Forecast:
48 Hour 500 Millbar Height Forecast:
48 Hour 300 Millbar Pressure Forecast:
48 Hour 300-850 Shear Forecast:
---
Current Atlantic 700-850 mb Mean Wind Analysis (TC Sfc Pressure Range 1000-1010 mbs):
Current Atlantic 500-850 mb Mean Wind Analysis (TC Sfc Pressure Range 990-999 mbs):
Current Atlantic 400-850 mb Mean Wind Analysis (TC Sfc Pressure Range 970-989 mbs):
Current Atlantic 300-850 mb Mean Wind Analysis (TC Sfc Pressure Range 950-969 mbs):
Current Atlantic 250-850 mb Mean Wind Analysis (TC Sfc Pressure Range 940-949 mbs):
Current Atlantic 200-700 mb Mean Wind Analysis (TC Sfc Pressure Range <940 mbs):
---
Current Atlantic 850 mb Relative Vorticity Analysis:
Current Atlantic 700 mb Relative Vorticity Analysis:
Current Atlantic 500 mb Relative Vorticity Analysis:
---
Current Atlantic Low-Level Convergence Analysis:
Current Atlantic Upper-Level Divergence Analysis:
---
Probability Of Tropical Cyclone Formation Within 24 Hours:
---
Tropical Cyclone Formation Areas Of Interest:
---
Vertical Wind Shear Analysis (850-200 mbs):
---
Current Atlantic Wind Shear Analysis:
---
Current Atlantic Wind Shear Tendency Analysis:
---
Current Eastern Atlantic/African Wind Shear Analysis:
---
12 Hour Forecast – Favorable Environmental Conditions For Tropical Development
24 Hour Forecast – Favorable Environmental Conditions For Tropical Development
36 Hour Forecast – Favorable Environmental Conditions For Tropical Development
48 Hour Forecast – Favorable Environmental Conditions For Tropical Development
60 Hour Forecast – Favorable Environmental Conditions For Tropical Development
72 Hour Forecast – Favorable Environmental Conditions For Tropical Development
96 Hour Forecast – Favorable Environmental Conditions For Tropical Development
120 Hour Forecast – Favorable Environmental Conditions For Tropical Development
---
Current Sea Surface Temperature Analysis:
-
Back to top
---
---
Historical Track Archives (Unisys):
-
Back to top
[
Atlantic
|
Eastern Pacific
|
Western Pacific
]